89% of people admit that they were prompted to buy a product or service by a commercial. The same is true for programs and apps, according to 79% of users. As for revenues, according to Insider Intelligence, by 2027, video advertising will bring advertisers almost twice as much as now – $ 360 billion per year. For arbitrageurs, all these statistics mean one thing: it's time to take a closer look at this format.
This article discusses the latest trends in video marketing and how to use video advertising to promote your products and services in 2023.
Short vertical videos
The popularity of the format is due to the fact that users watch most video content from mobile devices. Short videos perfectly fit the clip-based mindset of modern society. These videos instantly convey the essence of the promoted product to the viewer, and their production does not require a large resource, which allows creators to quickly adjust to current trends and respond to events. The optimal length of the video depends on the site, but all the most interesting things should be shown in the first 10 seconds.
Since the trend comes from the social networks, it's obvious that marketers place the main bets on TikTok, Facebook, Instagram and of course YouTube. However, the popularity of "short films" is so high, that even LinkedIn recommends to make advertising in a vertical format to increase ROAS (Rate of Return on Ad Spending), and Twitter is looking at a vertical feed format in the style of TikTok.
Traffic Sources
YouTube, TikTok, Facebook Reels, Instagram Reels – all four sites are very promising in terms of video advertising, but each has its own characteristics.
Facebook/Instagram
Facebook's audience is huge, and in response to the fashion for "short films," the company launched Facebook Reels and Instagram Reels. It's a great way to find and engage your target audience. Reels account for up to 20 percent of the time users spend on the app. The company states that this is the format it focuses on in its development and actively promotes accounts with a small number of subscribers. Reels makes it easy to show products, for example, by demonstrating product features with immersive photography that allows 360-degree visibility of the product.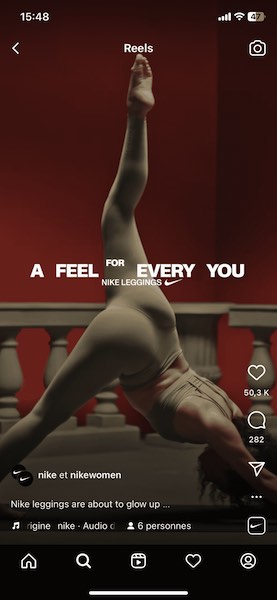 TikTok
TikTok's audience is large, but younger and not as solvent as other platforms. But engagement and willingness to interact with content is very high. According to Nielsen, TikTok campaigns have a 14% higher ROAS than others.
YouTube
YouTube is number one in terms of video content views (not surprisingly), and to keep up with the "short-form" trend, Google launched Shorts. Insider Intelligence believes that creators are attracted to YouTube because of its more transparent payment system and higher payouts. YouTube Shorts doesn't have so many channels and users yet, so the level of competition is not high yet. Since the platform is very careful about copyright compliance, the choice of material for creatives should be careful. Of course, in addition to Shorts, prerolls and midrolls have not disappeared, but the trend for brevity applies to them as well. Moderation rules are common with Google Ads: no alcohol, drugs, violence, obscene words and scenes. Thanks to YouTube's ability to detect the language of a video and show it to the appropriate audience, marketers don't have to create separate channels for different languages.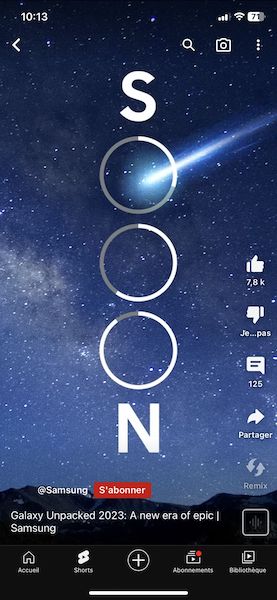 Influencers
Separately, we should talk about Influencers, which are located on all platforms. As long as social media remains the best source of traffic, partnerships with Influencers will benefit marketers and arbitrageurs a lot.
Example of video ads with the influencer
Opinion leaders create a loyal community around them, ready to listen to feedback and reviews (and that's another trend – community building). By choosing an influencer whose message is in tune with the product you're promoting, you'll get interested traffic for a reasonable price or barter. Experts believe that in the near future the most attention of the affiliate community will be received by micro- and nano-influencers with an audience from 1000 to 100 000 people.
Creatives: funny, original and UGC
Since users visit social networks mainly for entertainment, video creations should be as native as possible and take into account fashion trends in the target GEO. Many people watch videos in social networks with the sound turned off, and it's necessary to write text for them, but so that it doesn't interfere with the image. Since different sites have different requirements for subtitles, we recommend you study them carefully. For those types of users who watch feeds with sound, it is very important to choose trendy music. However, the main goal of any creative work remains the same: to show the benefits of an offer as clearly and affordably as possible. Four of the most effective video formats will help to attract clients and increase conversions: reviews, video reviews, client stories and educational videos on how to use a product. It's very helpful to add humor to your creatives because it entertains people and draws them in. And for reviews and tutorials, it's better not to make staged studio shots, but as if the content was unpolished, almost amateurish, maybe even UGC. Users tend to trust this kind of content more, provided that the speaker's expertise will not cause them any doubts. Also experts suggest not to write off animation and storytelling.
Marketing: CTA, multichannel approach, remarketing
As in any format, a call to action is always needed in video advertising, when the audience is expected to make a specific move. In social media, this is accomplished with "buy" buttons, "go to store" buttons, "learn more" buttons, etc. It's important to remember about proper framing: the image of the product or other important part of the screen should not fall under the buttons.
No matter how popular TikTok or YouTube are, marketers advise against limiting yourself to one channel. The scattering of the audience on different platforms and features of targeting on each of them allows you to reach the maximum audience. This does not always require separate creative for each platform: in most cases, you can use the same one.
Remarketing is relevant to any campaign, but in the case of video advertising, it may be even more necessary. Videos, especially on social media, raise product awareness, generate interest and demand.
Conclusions
Every year, more and more programs and services come out to help creators create quality videos. Social media isn't lagging behind either, offering a plethora of filters, effects and tools. So even if you've never launched a video campaign before, fear not: everything will work out. After all, no one expects a social media ad to be shot like in Hollywood. A natural setting, a simple pitch, humor, a fascinating story, a short timeline – these are the main ingredients for success.
(Visited 43 times, 1 visits today)